Area Rug Moth Removal and Moth Proofing
Moth Removal and Protection for Your Area Rugs
Because one of the biggest natural enemies facing your area rugs is moths, Main Street Oriental Rugs specializes in providing area rug moth removal and mothproofing services for our clients in Maryland, Northern Virginia, and the Washington D.C. area. Moths can cause significant damage to your area rugs' fibers over time. Because area rugs tend to get stored away often for long periods of time, most rug owners won't even know they have an issue with moths until the damages have already been done. Moths are often difficult to detect because they may hide under furniture, in dark spaces, and even in-between the cracks of your hardwood flooring.
How to Stop Moth Infestations From Spreading
Once moths have begun eating one area rug, they usually quickly move on to the rest of your stored rugs, as well as your other fur, silk, cotton, and wool items. The easiest way to tell if an area rug has been damaged by a moth is to look for noticeable bald spots in its pile. If the infestation is severe enough, you may also notice delicate moth netting over your entire rug's surface.
If you suspect a moth has damaged your area rug, be sure to remove it from your home immediately in order to stop an infestation from spreading. Periodic rug inspections and mothproofing are your best defenses against damages to area rugs caused by moths. We also recommend cleaning your hardwood floors with solutions of cedar or lavender because these tend to keep moths and other insects away.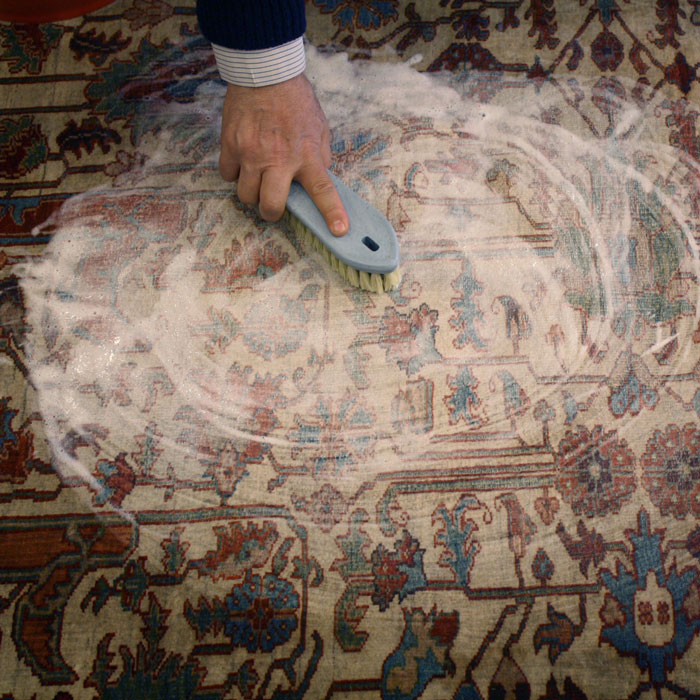 Contact Main Street Oriental Rugs for Expert Assistance
Mothproofing involves using a special cleaning detergent that deters moths from eating or even coming near your area rug, while moth removal involves using a special treatment that's powerful enough to kill or remove any moths or larvae that have already infested your rug. To learn more about our available area rug moth removal and mothproofing options in Maryland, Northern Virginia, or Washington D.C., contact Main Street Oriental Rugs via phone or email.