Area Rug Pick-Up and Delivery
Free Area Rug Pick-Up and Delivery Services
If you have three or more area rugs you need cleaned and/or repaired, Main Street Oriental Rugs provides free area rug pick-up and delivery services for clients in the Maryland, Northern Virginia, and Washington D.C. areas. With over 30 years of experience, our area rug experts know how to remove stains and restore your area rugs back to their former glory. Complete customer satisfaction is our top priority and we achieve this through our exceptional customer service, high-quality craftsmanship, and affordable rates. Whether you have area rugs from Persia, Turkey, India, Pakistan, Afghanistan, or China, we would be happy to provide you with a free repair or cleaning estimate.
Trust Our Area Rug Cleaning and Repair Specialists
When you entrust Main Street Oriental Rugs to clean your area rugs, you can expect a unique blend of traditional hand cleaning methods with powerful yet gentle modern equipment. Our staff never uses harsh chemicals or detergents that could cause damage to your rugs. We're skilled at removing pet stains and odors, chemical spills, mildew, and grime build-up from your rugs to restore them to like-new condition.
In addition to our expert area rug cleaning services, we're also skilled at providing many types of area rug repairs ranging from fringe and binding repairs to seam repairs, re-piles, burn restoration, and patching. We have a huge collection of fringe and weave replacement colors to match your rug.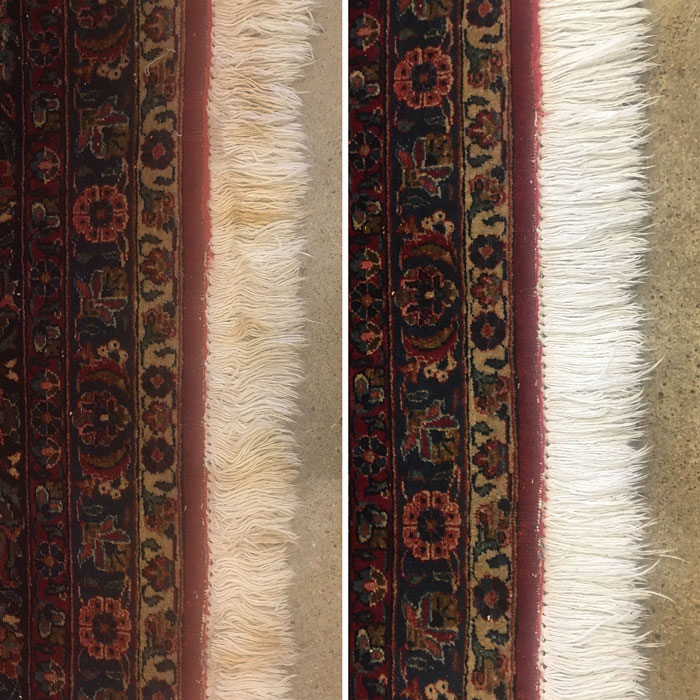 Serving Private Collectors and Formal Groups
Whether you're a private collector, college/university, business, hotel, historic landmark, or museum with area rugs that need to be cleaned or repaired, be sure to take advantage of Main Street Oriental Rugs' free pick-up and delivery services in Maryland, Northern Virginia, and the D.C. area. Please
contact us today
to learn more or to arrange an appointment for our free pick-up and delivery services!