Area Rug Binding and Serging
Has Your Area Rug Begun to Fray Along Its Edges?
Has your beautiful area rug begun to fray or unravel around its edges? Don't fret! Main Street Oriental Rugs provides area rug binding and serging services for clients in Maryland, Northern Virginia, and Washington D.C. to help you get damaged rugs looking as good as new again. Both methods are commonly used to finish or repair the edges of area rugs, but there are quite a few differences between the quality of the two finished products.
Unraveling the Differences Between Binding and Serging
Generally, bound edges are completed by hand, while serged edges are completed with the usage of a serging machine. Therefore, the most noticeable difference between the two repair methods is a serged edge will leave you with visible stitches on the underside of your area rug, while a bound area rug will usually have a more tailored look without any visible stitches on its edges.
That's because binding an area rug involves using a thick woolen yarn that's continuously wrapped around the edge of the rug, stopping where it meets the fringe edge for completion. As you'd probably expect, binding the edges of your damaged area rug is the costlier of the two repair methods, but it usually offers a longer-lasting solution.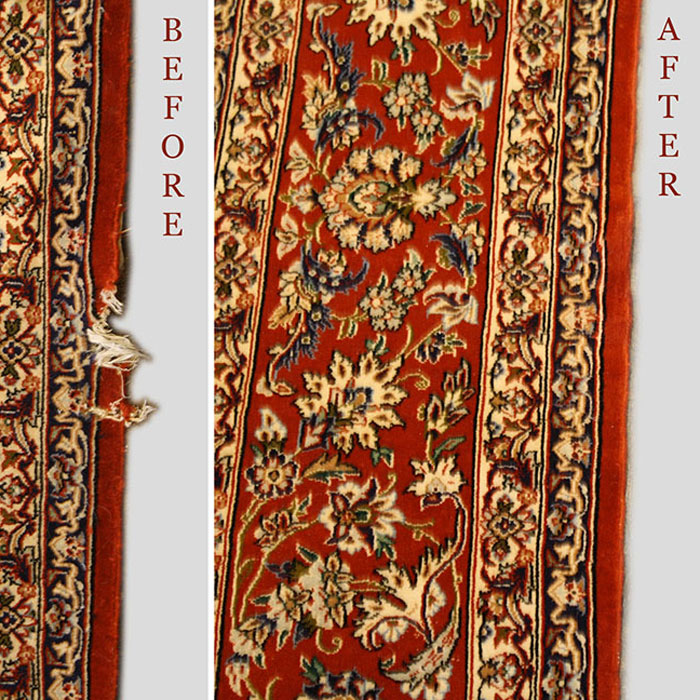 Experienced Area Rug Binding and Serging in Maryland
Main Street Oriental Rugs is proud to offer both area rug binding and serging options to accommodate our Maryland, Northern Virginia, and Washington D.C.-area clients with various budgets. Some clients may prefer the finished look afforded by serging, while others may prefer that of the bound look. The choice of which method is used is completely up to you and your personal preferences. Please contact us today to request a free repair estimate using either of these two methods.