Maryland's Quality Rug Cleaning Solutions Provider
You invest in an oriental rug for its beauty and to enhance your home's appearance and comfort. These valuable rugs deserve the same care as your other investments to preserve their look and keep them in optimal condition for longer. At Main Street Oriental Rugs, we proudly offer oriental rug cleaning solutions to Maryland, Washington D.C., and Northern Virginia customers. Our cleaning services use non-toxic cleaning methods to keep your rug's fibers free of soil, debris, and odors. We combine modern equipment with traditional hand cleaning methods to retain your oriental rug's look and value.
Our Process to Safely Clean Your Rugs
Main Street Oriental Rugs has extensive expertise in the most effective cleaning methods to rid oriental rugs of dirt, debris, and other blemishes. We use a safe cleaning process that incorporates the following steps:
Dusting – We dust to remove particles like dirt from within your rug's fibers ordinary vacuuming cannot get.
Shampooing – Our shampooing step lifts and eliminates debris and odors using a special, non-toxic shampoo.
Rinsing – After shampooing your oriental rug, we purge it of filth and the cleaner using clean, cool water.
Drying – We can perform traditional and natural drying in an ideal climate with our climate-controlled warehouse.
Post-Detailing – If your rug has spots requiring special attention, we carefully remove foreign matter to leave your rug immaculate.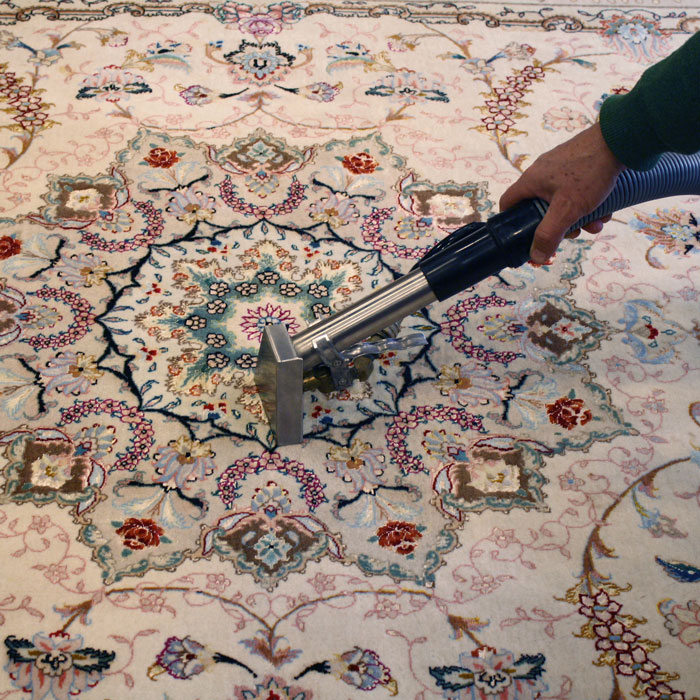 Get a Clean Rug Without Harsh Chemicals
Cleaning your oriental rug safely and thoroughly takes special equipment and skills to ensure the fibers and weaving stay perfectly intact. Main Street Oriental Rugs' experts prioritize performing all rug cleaning with safety measures to protect their fibers and dyes. Our business never uses harsh chemicals or detergents in the cleaning process. We care about preserving your oriental rug, so we use gentle methods and cleaners.
You can call us to ask how you can get 20% off our rug cleaning services. Preserving your rugs with regular cleanings can protect their value and appearance, and we make it more affordable. Let us show you how over 30 years of experience can benefit you.